Dr Lee Yang is a Gold Coast neurosurgeon and spine surgeon in Queensland who specialises in keyhole/complex spine surgery and advanced neurovascular surgery as well as all aspects of brain, spine and peripheral nerve surgeries.
KEYHOLE SPINE SURGERY
Dr Yang has a strong interest in developing keyhole spine surgery and performs keyhole spine operations every week for disc prolapse and canal stenosis.
Keyhole spine surgery is also known as minimally invasive spine surgery (MISS). This spine surgery is minimally invasive because MISS spine surgery is performed through one or more small incisions through which tubular retractors are inserted. MISS surgeries range from discectomies and decompressions for canal stenosis right through to instrumented fusions.
Keyhole spine surgery benefits include:
minimized trauma to back muscle
minimized risk to stability of spine
less post-operative pain
reduced hospital stay
faster mobilization and return to work
reduced risk of infection and blood loss
improved back muscle function and physical form
Dr Yang will discuss the issues pertinent to your individual needs and keyhole spine surgery may not be the most optimal option in some patients.
PUT YOURSELF IN GOOD HANDS
Surgery is performed to the highest standards. All patients deserve the very best in care, especially when they are dealing with debilitating neurological conditions.
Microscopic view: bulging white disc compressing nerve root (swollen and red)
TUBE: 1.8 cm in diameter
Very small skin incision (2 cm) – smaller than a thumb size
INTRICATE KEYHOLE SPINE SURGERY
The intricate keyhole spine surgery is performed using high definition neurosurgical microscope.
REMOVED OFFENDING DISC FRAGMENTS
POSTOPERATION 6 WEEKS
Skin scar is hardly visible 6 weeks after surgery and much smaller than a thumb size
Contact Dr Lee Yang
Contact Dr Lee (Liqun) Yang
Phone: 07 5530 0491
Fax: 07 5530 0686
Email: [email protected]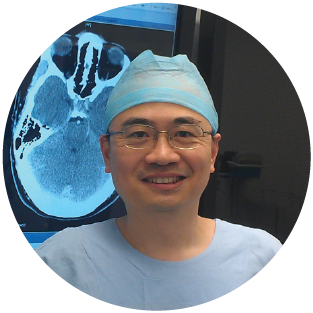 Dr Yang Specialises in:
SPINE
---
BRAIN
---
PERIPHERAL NERVE
---
Carpal Tunnel Syndrome
Ulnar Nerve Entrapment
Book an appointment with Dr Yang
To arrange an appointment with Dr Lee (Liqun) Yang please contact,
Phone: (07)5530 0491 Fax: (07) 5530 0686
Gold Coast Private Hospital
Suite 15, Ground Floor
14 Hill Street, Southport QLD 4215
Gold+Coast+Specialist+Centre